Insulated Containers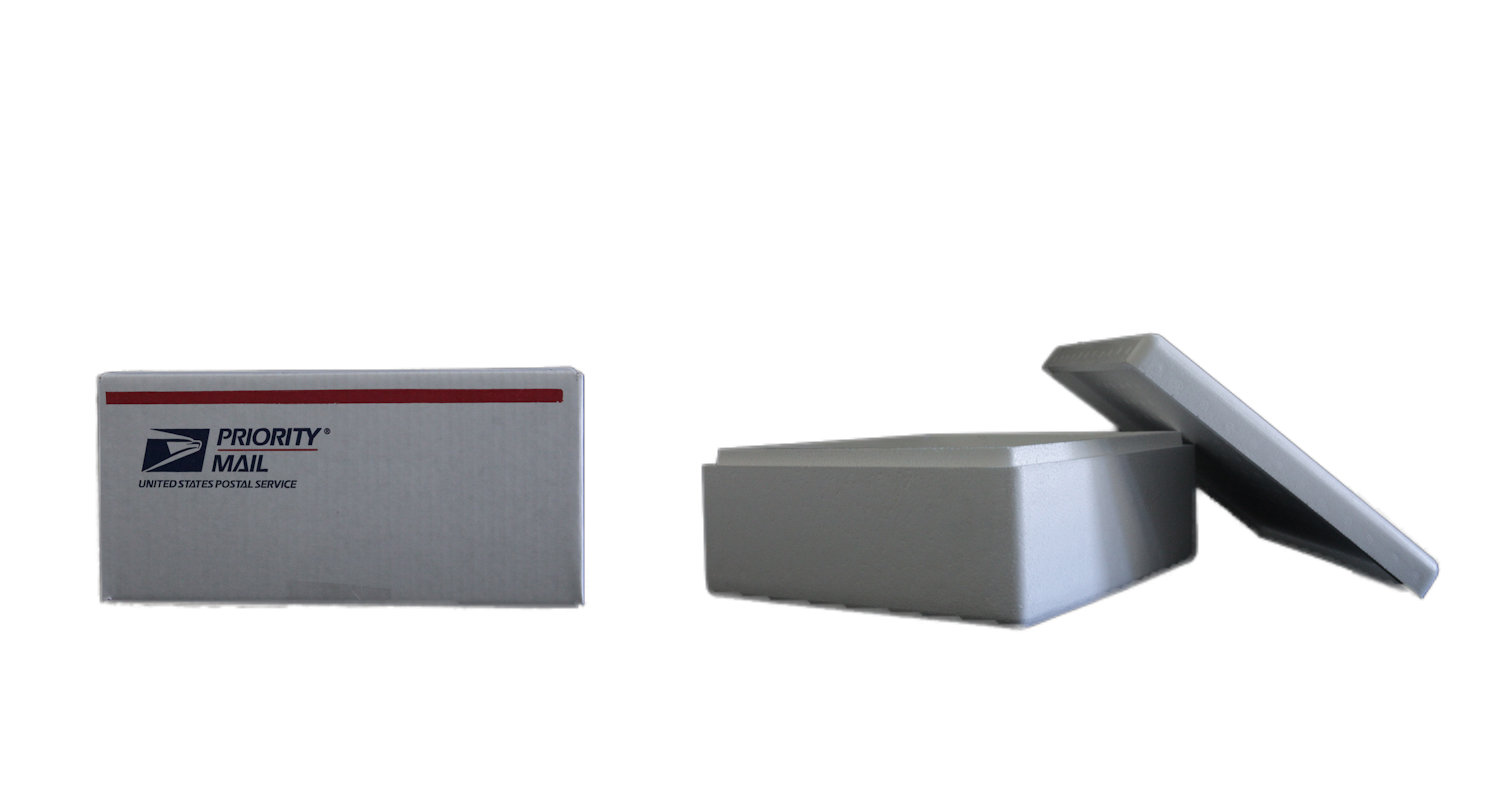 Expanded Polystyrene (EPS) molded insulated containers are one of the most cost effective methods of shipping temperature sensitive products.
EPS is a non-toxic and inert material lending itself to the shipment of products such as meat, vegetables, pharmaceuticals, blood products, lab samples, bio products and other perishable products.
The duration of time and temperature is calculated by using the wall thickness of the container combined with the amount of refrigerant used. The refrigerants may be frozen ice bags, jell pack, dry ice or a combination.
Available Options:
Engineering Services

3D Drawings

Custom Sizes and Tooling

CNC Cut Prototypes

Custom Molded Name and Logo

Custom Density

Outer Exterior Cartons

Kitting

JIT Deliveries
Important: Part numbers represent the total cubic inches available inside the box cavity. Click on PDF link for detailed IC-Box dimensioned drawings.
$250 minimum order
Part No.,
Cu. In.
Outside Dimensions
Inside Dimensions
Wall
Thickness
Download
PDF
Get Quote
IC-16
4 1/2" x 3 1/8" x 3 1/8"
3 1/2 x 2 1/8 x 2 1/8
1/2"
IC-16
Get Quote
IC-24
4 3/8" x 3 7/8" x 3 3/4"
3 3/8 x 2 7/8 x 2 3/4
1/2"
IC-24
Get Quote
IC-44
5 9/16" x 4 1/4" x 4"
4 9/16 x 3 1/4 x 3
1/2"
IC-44
Get Quote
IC-65
7 3/4" x 4 1/2" x 3 3/4"
6 3/4 x 3 1/2 x 2 3/4
1/2"
IC-65
Get Quote
IC-103
7 1/2" x 7 1/8" x 3 1/2"
6 3/4 x 6 1/8 x 2 1/2
1/2"
IC-103
Get Quote
IC-110
8 1/2" x 8" x 7"
5 1/2 x 5 x 4
1 1/2"
IC-110
Get Quote
IC-128
8 1/2" x 8" x 7"
5 3/4 x 5 1/4 x 4 1/4
1 3/8"
IC-128
Get Quote
IC-131
7" x 7" x 6"
5 7/16 x 5 7/16 x 4 7/16
3/4"
IC-131
Get Quote
IC-137
11 1/2" x 9 1/4" x 3 1/2"
9 1/2 x 7 1/4 x 2
1"
IC-137
Get Quote
IC-151
9 1/16" x 8 1/2" x 7 5/8"
6 1/16 x 5 1/2 x 4 5/8
1 1/2"
IC-151
Get Quote
IC-186
8 3/4" x 6 3/4" x 6 3/4"
6 7/8 x 5 1/4 x 5 1/4
3/4"
IC-186
Get Quote
IC-217
9 1/16" x 8 1/2" x 9 5/8"
6 1/16 x 5 1/2 x 6 5/8
1 1/2"
IC-217
Get Quote
IC-266
11" x 8 1/2" x 5"
9 1/2 x 7 x 3 3/8
3/4"
IC-266
Get Quote
IC-288
10 15/16"x 8 15/16" x 8 15/16"
7 15/16 x 5 15/16 x 5 15/16
1 1/2"
IC-288
Get Quote
IC-323
10 15/16" x 8 15/16" x 10"
7 15/16 x 5 15/16 x 7
1 1/2"
IC-323
Get Quote
IC-359
11 1/2" x 9 1/2" x 9 1/2"
8 1/2 x 6 1/2 x 6 1/2
1 1/2"
IC-359
Get Quote
IC-365
10 1/8" x 9 1/2" x 10 7/8"
6 1/8 x 5 1/2 x 6 11/16
2"
IC-365
Get Quote
IC-395
14 1/2" x 11 7/8" x 11 1/8"
9 1/2 x 6 7/8 x 6 1/8
2 1/2"
IC-395
Get Quote
IC-398
13" x 10 1/4" x 8 1/2"
10 x 7 1/4 x 5 1/2
1 1/2"
IC-398
Get Quote
IC-441 (USPS)
12" x 12" x 5 1/2"
10 1/2 x 10 1/2 x 4
3/4"
IC-441
Get Quote
IC-432
10 15/16" x 8 15/16" x 11 15/16"
7 15/16 x 5 15/16 x 8 15/16
1 1/2"
IC-432
Get Quote
IC-433
16" x 9 3/4" x 5 1/8"
14 1/2 x 8 1/4 x 3 5/8
3/4"
IC-433
Get Quote
IC-576
15" x 15" x 7"
12 x 12 x 4
1 1/2"
IC-576
Get Quote
IC-628
16" x 9 3/4" x 6 3/4"
14 1/2 x 8 1/4 x 5 1/4
3/4"
IC-628
Get Quote
IC-661
12" x 12" x 7 1/2"
10 1/2 x 10 1/2 x 6
3/4"
IC-661
Get Quote
IC-742
14 1/2" x 12 5/8" x 10 1/2"
11 1/2 x 9 5/8 x 7 1/2
1 1/2"
IC-742
Get Quote
IC-864
15" x 15" x 9"
12 x 12 x 6
1 1/2"
IC-864
Get Quote
IC-878
14 1/4" x 11 7/8" x 12 1/4"
11 1/4 x 8 7/8 x 9 1/4
1 1/2"
IC-878
Get Quote
IC-880
16" x 10 5/8" x 8 1/2"
14 1/2 x 9 1/8 x 6 3/4
3/4"
IC-880
Get Quote
IC-974
18 5/8" x 14 5/8" x 13 3/4"
13 1/4 x 9 1/4 x 9
2 1/2"
IC-974
Get Quote
IC-1052
14 1/2" x 12 5/8" x 12 1/2"
11 1/2 x 9 5/8 x 9 1/2
1 1/2"
IC-1052
Get Quote
IC-1106
17 3/16" x 13 7/32" x 13 1/8"
13 3/16 x 9 7/32 x 9 1/8
2"
IC-1106
Get Quote
IC-1152
15" x 15" x 11"
12 x 12 x 8
1 1/2"
IC-1152
Get Quote
IC-1512
19" x 16 1/2" x 10"
16 x 13 1/2 x 7
1 1/2"
IC-1512
Get Quote
IC-1622
27 1/4" x 13 3/4" x 7 5/8"
24 1/4 x 11 5/8 x 5 7/8
1"
IC-1622
Get Quote
IC-1944
19" x 16 1/2" x 12"
16 x 13 1/2 x 9
1 1/2"
IC-1944
Get Quote
IC-2376
19" x 16 1/2" x 14"
16 x 13 1/2 x 11
1 1/2"
IC-2376
Get Quote
IC-2518
18 1/2" x 15 7/8" x 14 5/8"
16 x 13 1/2 x 12 1/2
3/4"
IC-2518
Get Quote
IC-2780
23 1/2" x 20 3/4" x 14 1/2"
18 1/4" x 15 3/4" x 9 1/2"
2.5"
IC-2780
Get Quote
IC-2783
22 7/8" x 19" x 12"
19 7/8" x 16" x 9"
2 1/2"
IC-2783
Get Quote
IC-2808
19" x 16 1/2" x 16"
16" x 13 1/2" x 13"
1 1/2"
IC-2808
Get Quote
IC-2814
23 1/4" x 20 1/2" x 17 1/4"
17 1/4" x 14 1/2" x 11 1/4"
3"
IC-2814
Get Quote
IC-2852
20 1/4" x 17 3/8" x 14 1/2"
17 1/4" x 14 3/8" x 11 1/2"
1 1/2"
IC-2852
Get Quote
IC-2943
23 1/2" x 16 1/4" x 15 1/4"
20 1/2" x 13 1/4" x 12 1/4"
1 1/2"
IC-2943
Get Quote
IC-3000
20 1/4" x 17 3/8" x 14 1/2"
17 1/4" x 14 3/8" x 11 1/2"
1 1/2"
IC-3000
Get Quote
IC-3400
22 7/8" x 19" x 14"
19 7/8" x 16" x 11"
1 1/2"
IC-3400
Get Quote
IC-3785
34 1/4" x 17 1/4" x 11 1/4"
31 3/4" x 14 3/4" x 8 1/2"
1 1/4"
IC-3785
Get Quote
IC-6373
28 1/8" x 18 1/2" x 21 1/2"
24 3/8" x 14 3/4" x 17 3/4"
1 7/8"
IC-6373
Get Quote
IC-8379
48" x 21" x 15"
44 1/2" x 17" x 11 7/8"
1 1/4"
IC-8379
Get Quote